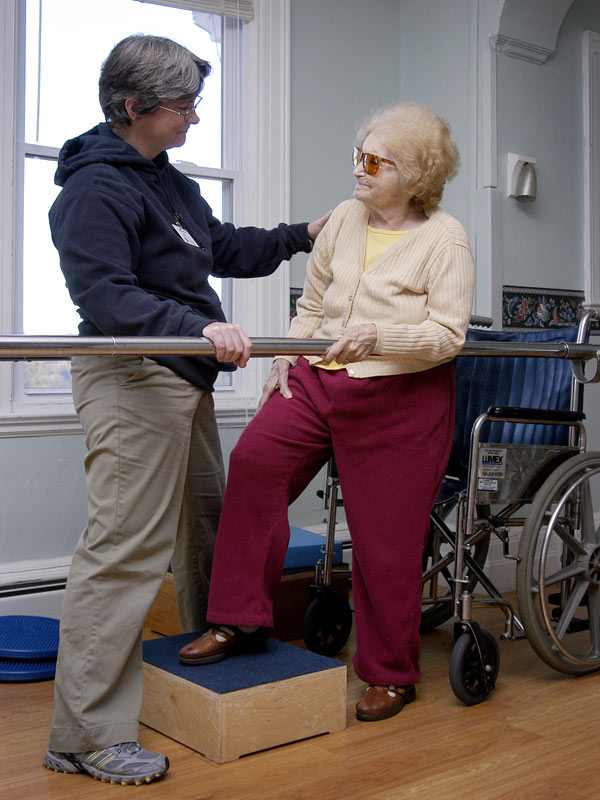 Rehabilitation Services:  Woodlawn offers the most current therapies and treatments as part of its overall Rehabilitation Services.  Comprehensive services include Physical Therapy, Occupational Therapy and Speech Therapy.  The rehabilitation team at Woodlawn develops individualized goals and treatments plans.  Each plan is designed to maximize our resident independence, allowing them to return to their level of fitness and activity prior to injury.  The physical therapy staff works to restore normal functioning, while addressing pain, muscle weakness, loss of motion, or lack of coordination and balance.  
Physical therapy services include:
Overall Strength and Conditioning
Balance Techniques
Gait Training and Ambulation
Stair Climbing
Transfer Training
Physical Treatment Modalities
Manual Therapy
Occupational therapy serrives include:
Strength and Conditioning
Balance Techniques
Activities of Daily Living (bathing, dressing, clothing/item retrieval)
Specific techniques to improve ability to dress/bathe and in general be more independent with daily routine
Speech thereapy services include:
Swallowing Evaluation and Treatment
Expressive Language: ability to make wants and needs known (verbally, communication board or with sign language), intelligibility, rate of speech, prosody (inflection, tone)
Receptive Language: ability to understand verbal or written language (following directions, indentification of objects/pictures, auditory processing)
     A window to recuperation at the time of discharge from a skilled nursing and rehabilitation center under Medicare guidelines allows for patients to be readmitted within a 30-day period, which is referred to as the "Medicare Window."  In order to qualify for this 30 day window one must meet the following guidelines:  

• Have received  Medicare Part A benefits in an acute hospital or skilled nursing center in the past 30 days.
• Require rehabilitative services and/or skilled nursing care on a daily basis.
• Have days remaining in the skilled nursing Medicare Part A, 100-day benefit period.
• Have physician's orders for readmission.